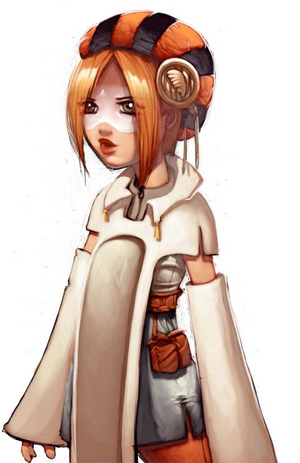 The councilor of Bending Grasslands.
Councilor Elah took Arra on as his apprentice because of her immense potential as a Neo Magician and her even-handed approach to solving problems. She bears the enormous weight of his legacy quite well considering she's only a few years older than Billy and the gang. Many admire Arra's dedication to becoming the best Neo Magician and Councilor she can be, but others think she takes her training too seriously. She isn't interested in any of the frivolities that occupy other girls her age and has no time for potential suitors. In fact, all the young men in the tribe are too intimidated to say anything more to her than a polite, "Hello, Councilor Apprentice."&nbsp Years ago, Arra was in love with a young man named Elean . He even asked for her hand in marriage, but Arra's happiness wasn't to last. When Elean wasn't named the tribe's racer, he left the Bending Grasslands and Arra behind. The following year, the Pirate King won his first Great Race and Arra recognized him as Elean, the boy who broke her heart. Arra was the first to recognize Billy's potential as a glidewing pilot and hand-picked him to represent the Grasslanders. She sees in him a young Pirate King, and considers it her personal mission to make sure that Billy isn't corrupted by his potential like Elean was.
Community content is available under
CC-BY-SA
unless otherwise noted.