Print Comics
Edit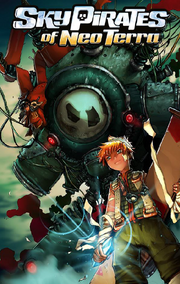 Initially released as a five part comic series published by Image Comics written by Sean Megaw, Josh Wagner and Sarah Carbiener with art by Camilla d'Errico, coloring by Simon Bork and Patipat Asavasena this storyline surrounds The Witch Queen's goal of using a ancient relic called Mother to enhance the dark energies of Forgotten Isle.
Comic Issue #1
Comic Issue #2
Comic Issue #3
Comic Issue #4
Comic Issue #5
Graphic Novel
Edit
A trade paperback collecting the five issues of the original Image series and the unreleased issue 0 comic and sketches.
Web Comics
Edit
To flesh out more of the backstories, details, and character motivations of Neo Terra a series of web comics was produced. They also serve as promotion of the upcoming release of the Sky Pirates racing game for Facebook, Web, iOS, etc. (To be release in 2012)
Web Comic #1: Vanwitt's Discovery
Web Comic #2: The Great Race
Web Comic #3: Magical Crystals of Neo Terra
Web Comic #4: The H
Web Comic #5: Relic Hunters
Web Comic #6: Growing Unrest
Web Comic #7: Sera
Web Comic #8: Flora
Web Comic #9: Grash
Web Comic #10: Rascal
Web Comic #11: Shadow Marsh
Web Comic #12 : (Coming soon)
Community content is available under
CC-BY-SA
unless otherwise noted.