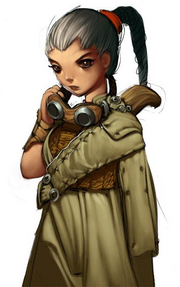 Even though she's a celebrated racer, Flora is the black sheep of her family. She's Councilor Sylvaenia's twin—they're identical—and the two come from a long line of councilors. But unlike her family, Flora could care less about the politics of her tribes. She's been obsessed with flying since she was a young girl. Her sharp reflexes may not make her the perfect daughter, but they certainly make her an excellent racer. Flora is madly in love with Marak . She's always quick to defend The Raiders, claiming they are misunderstood adventurers, not criminals and thugs. Flora has no idea that Marak is using her to take over her tribe. He underestimates Flora however if he thinks he can betray her and get away with it.
Community content is available under
CC-BY-SA
unless otherwise noted.