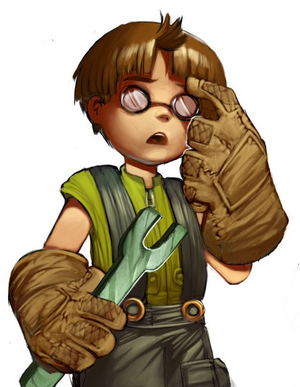 Ricket, though just a teenager, is on his way to being the best mechanic in all of Neo Terra. As Billy 's best friend, he gets plenty of practice repairing broken glidewings. Never content to simply fix broken mechanisms; he has to improve the ancient technology behind the famous flying machines. Maybe a more robust crankshaft can keep Billy from overdriving the gyroscopic oscillator when he takes his turns too sharp.‖ Though shy and timid, Ricket always accompanies Billy on his adventures, if only to repair Billy's glidewing when he inevitably breaks it. Because of his introverted nature, he is much better with a busted engine than he is with other people no matter how absentminded he may seem, Ricket will do anything for the people he cares about most: Billy, Suma and his father, Racket . Ricket wants to head The Mechanics Guild someday, just like his father, but he has a long way to go both as a mechanic and as a leader. He must learn to stand up for himself, even if it means standing up to his friends or his own father.
Community content is available under
CC-BY-SA
unless otherwise noted.