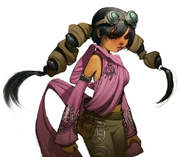 Dressed in flowing robes and constantly speaking in cryptic metaphors, Sera has cultivated a certain mystique on the racing circuit. The other racers think her mysterious mannerisms are an act she puts on to make herself an unpredictable opponent. If it's an intentional strategy, it's incredibly successful because no one knows what to expect from Sera on the race course. Unbeknownst to her fans and fellow racers, Sera is in fact a mystic. She believes in the unity of all things and sees every form of differentiation as an illusion.
Community content is available under
CC-BY-SA
unless otherwise noted.