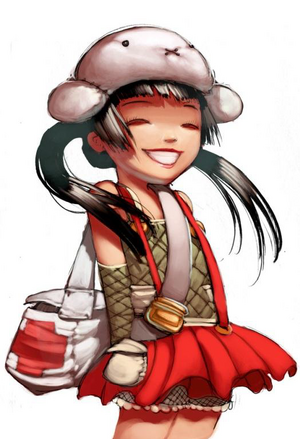 Suma is a young Neo Magician and very talented healer. But to her utter embarrassment, she thinks she might be falling in love with her best friend Billy , and she has absolutely no idea what to do about it. Regardless of whether or not she wants to be ―more than friends, Suma considers it her job to make sure Billy can count to ten after falling off his glidewing mid-flight, clean out the gash on his leg before he loses the limb, and wave a healing crystal over the knot on his head before it swells to the size of a Grassland Charger. Compassionate to a fault, she uses her healing skills to mend friend and foe alike. Although she's very smart and considers herself incredibly mature, Suma is still easily frustrated by Billy and Ricket 's antics. Despite her unpredictable temper, Suma is still the group's voice of reason—unless someone is flirting with Billy. Then she can be slightly more irrational and more impulsive than Billy! Originally from The Nomad tribe, Suma's family settled in the Bending Grasslands when she was very young. Her friends (and rude gossips) attribute her unusual, quirky style of dress to her Nomad roots. When it comes to fashion, Suma definitely marches to her own drummer.
Suma, for her part, is the one who takes care of Billy more than anyone else, thus making any girls who are "too close" to Billy become her enemies. Rena, for example, whose trash talk with Billy resembles flirting too much for Suma's comfort
Community content is available under
CC-BY-SA
unless otherwise noted.