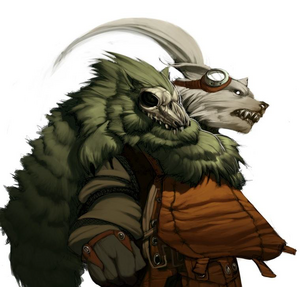 Like the fabled Viking ―Ulfwerenar, Wurl has wolf blood running through his veins. Half man, half beast, he's the largest glidewing pilot on the racing circuit racing for The Arctic Glade tribe. In his distant past, Wurl did terrible things he'd rather not remember. He had a violent, ruthless nature that he's worked hard to suppress, and the scars from his evil deeds are concealed, buried beneath his thick white fur. Wurl migrated to Neo Terra with another of his kind, Councilor Babaroun (who is now the Councilor for The Sinkhole tribe). Wurl follows a strict moral code, like that of a medieval knight, and has no interest in money or power. He's only a glidewing pilot so that he can keep an eye on The Raiders and prevent them from disturbing the peace and tranquility of his new homeland. When Wurl and Billy first meet, it's a clash of wills, personalities, perspectives, everything. Wurl can't stand Billy's immature, impetuous ways, and Billy hates Wurl's patronizing speeches and holier-than-thou attitude. Although Wurl has worked hard to hide his darker nature, Billy can bring out his intense temper like no one else.
Community content is available under
CC-BY-SA
unless otherwise noted.